Live Chat has many meanings, many use-cases and many more ways of using and optimising your workforce.
Jumper's Live Chat is tailor-made for e-commerce, relying heavily on sales and after sales support automation with no coding skills required at all. Zilch, de nada!
To navigate to the Live Chat, on your navigation bar towards the left, tap Live Chat and you'll be welcomed to a screen which may look empty if you haven't enabled your sales channels yet.
Please make sure you've connected at least one sales channel for this to be functional - by default web is already active for you and you will be able to see all your conversational web journies in the live chat if you added one product to begin with.
Here below is an example of what an active live chat dashboard and interactions look like - we'll walk you through each action and also what every icon denotes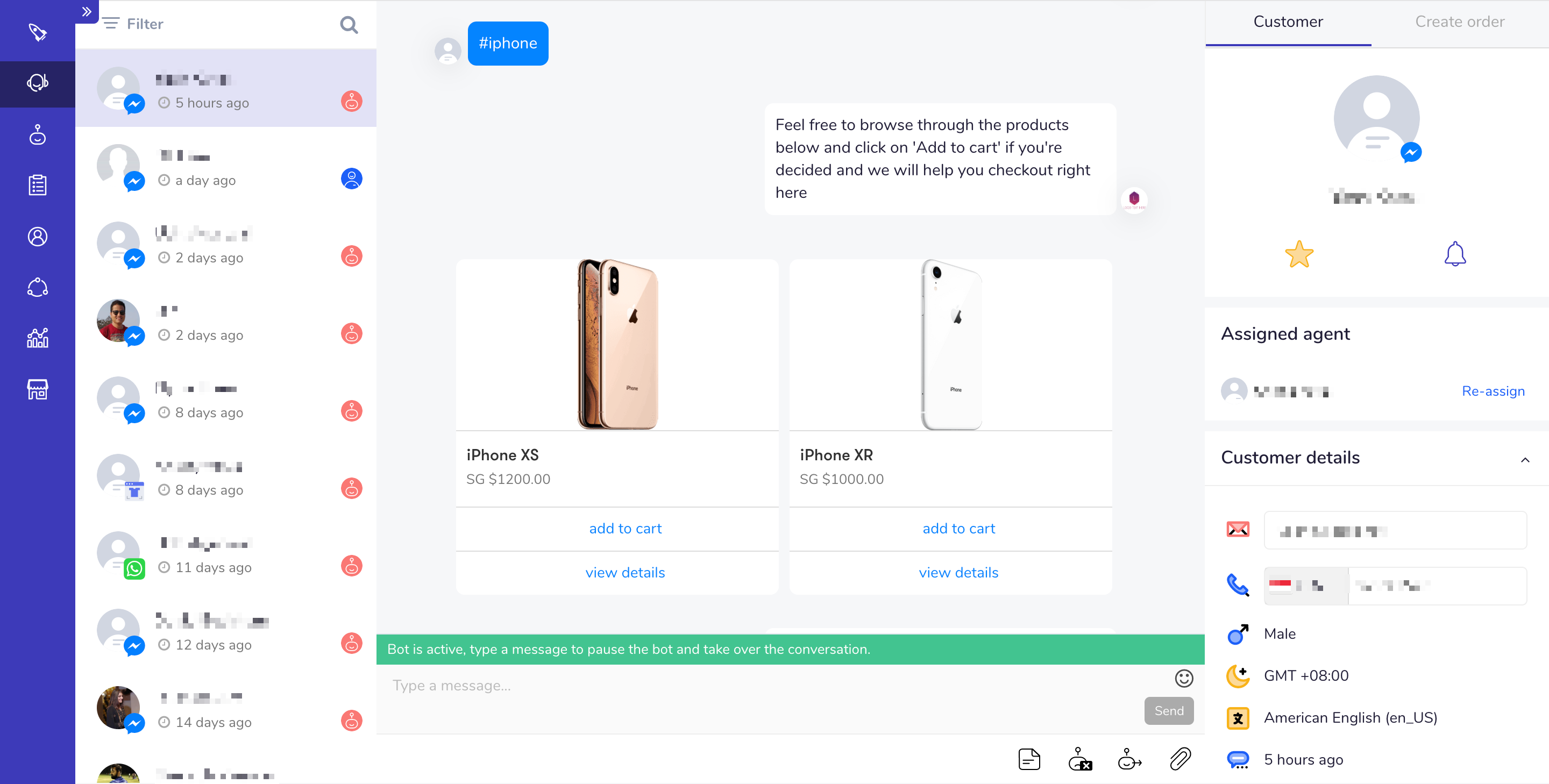 The screen is divided into 3 specific sections
The list panel towards the left - this shows you the active conversations across channels you've connected
The conversations panel in the center - you can watch the conversations LIVE that your customers are interacting through (either your bot or direct)
The customer / action (create order) panel towards the right - this gives you all the relevant information for the particular customer, ranging from their details, past orders, agent interactions, tags, custom data. We'll walk you through each in their relevant article - no sweat!
Next, let's dive a little deeper into each section;
First, the list panel
This panel will give you a glimpse of each customer and the channel they're talking to you or your automated bot from.
It'll also show you their last interacted time stamp to the nearest minute, hour, days.
The orange bot icon denotes that the customer is / was interacting with your automation
The blue human icon denotes the conversation is assigned to a team member / agent and will show you who it's assigned to too.
Second, the conversations panel
Here you can observe, intervene and automate conversations your customers are experiencing in real time
You may observe a few miliseconds of lag as this is the through-put our intelligence goes through to pass data to and fro
From this, you can
Pause the bot and jump in should you need to intervene an ongoing conversation
Answer queries and pass the converation back to the bot
Drop notes to team members
Attach photos and files
Start a totally new bot flow (for example, a quick survey, upsells, discount codes)
We have an article for each of the above explaining in detail of best uses for your reference
Last but not the least, the customer / action (create order) panel
Within this panel, there's so many things you can do, worry not.. we'll go through a quick overview and make it easier to navigate and get started for you
The top most view is that of the customer name, the channel of interaction and for you to mark conversations as follow-up, mark as resolved etc.
You'll also see a section once a human intervenes an automation of the agent assigned, next to which you can re-assign a conversation to your colleague too
Next up is the customer details, that encompasses all relevant details from the channel, which you can edit and change as per your needs to keep the information up to date
Source is the point of entry of the customer conversation.. for example, the customers opted in through WhatsApp, or your Website
Tags are really powerful for segmenting your customers, especially for broadcasting updates, remarketing campaigns and aligning custom audiences
Custom data is used to key in valuable insights for your teams to identify and refer to (for example, customer A wears size XXL, prefers round neck t-shirts etc)
Note: We'll soon be releasing APIs to auto-feed this content to and fro
Past purchases display all products purchased from you, this equips you and your team to learn more about them and then recommend other products
Past interactions shows you a list of all the team members who've interacted with a particular customer - this empower you, the business owner to observe and learn more on the amount of touch points it took to close sales, resolve queries for example
The action / create order panel is emphasized in it's own article sets here.
I'm sure the above must've toggled on the mind for the potential this can unlock for your business
We're always here and ready to brainstorm with you - please drop in an email to help@jumper.ai to talk to our rockstar team!