Facebook Ads are amazingly powerful for attracting new customers or interacting with your existing audience.
By generating JSON, this allows you to immediately fire-off a bot flow leading to the funnel you create on Jumper.
Go to Sales channels, tap Facebook and you'll see Generate JSON

Once in the dashboard, you'll see how a structure is made

When creating ads that click to Messenger, you can configure a JSON structured message.
This message can include text, image and action items among others. We aim to make the most of the available technologies and actions of the Facebook family of apps.
To learn more about the structured message and JSON creation by glacing through the Facebook links below
To design the structure on click to messenger ad you can use the follow templates:
text
product / collections
videos
and images
Once you add a product / collection to the JSON, when a customer clicks your ad, it'll immediately start walking them through the sale - how sweet is that? 😃
Once you've setup your structure, click on Copy Ad JSON Code

Next, we'll use this JSON code in the Facebook Ad Manager
Open your Facebook Ad Manager
Tap Create Ad


Click Quick Creation setup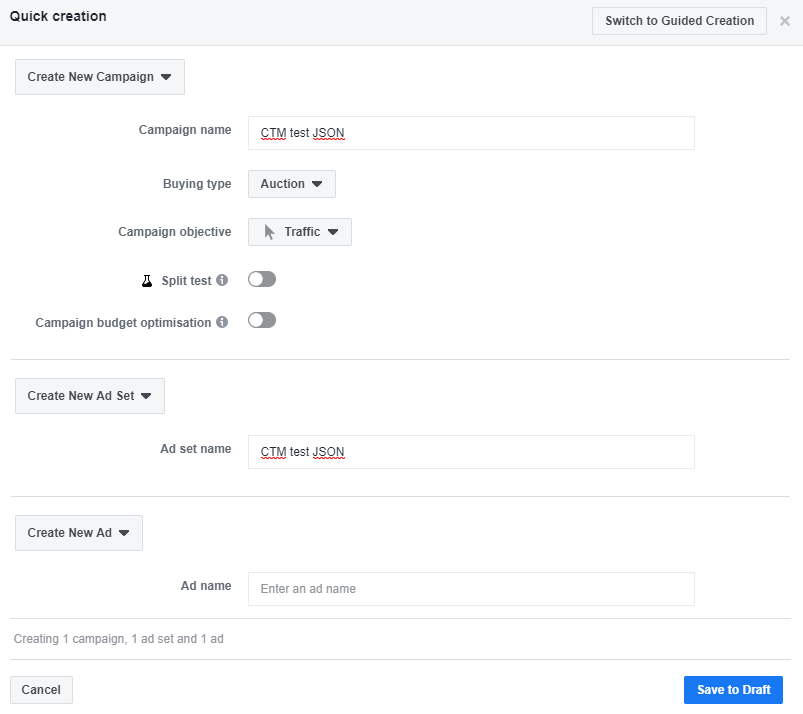 Feel free to select most suitable for you Audience, Budget & Schedule options. As for Placements, stick with Automatic Placements — this option will be adjusted automatically later.
Click 'Next'.
When you get to the Ad Setup tab, edit the headline, text, etc. of your ad and then scroll down until you see Messenger setup.
Here you click Create New & Choose Advanced JSON setup
In the Traffic Source click on Messenger
And in the ads section, Messenger setup click on advance JSON setup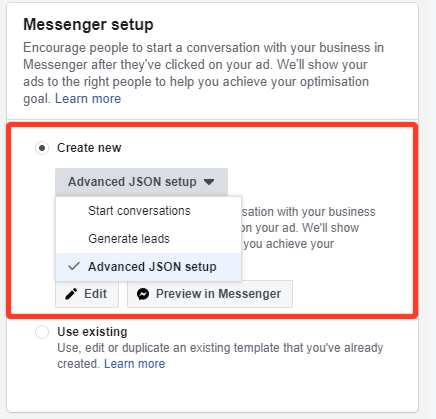 Next,
click Edit - under chosen setup.
You'll see the default JSON code that you need to replace with the code copied from your JSON code from jumper's platform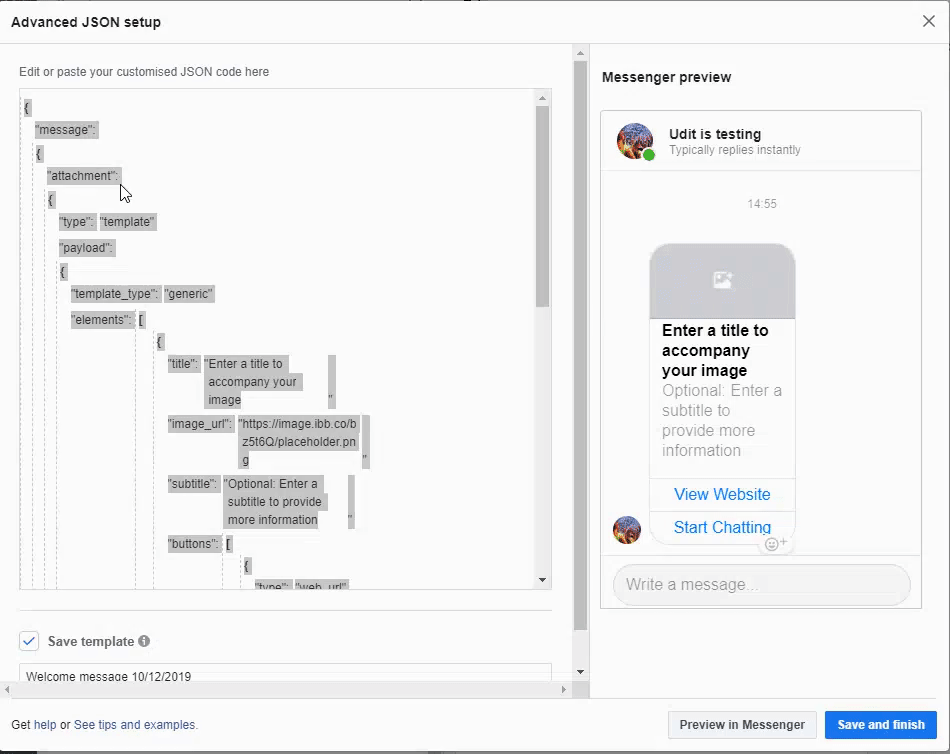 When the code is replaced, click Preview in Messenger to check your Opt-in Message and the flow.
Once the JSON code is saved, the Ad images and text successfully set up, click Finish and then Confirm to send your Ad for moderation and acceptance.
Remember, that users who click a button or interact by typing will become subscribers - not the ones who see the ad